The Evolution of Roundhouse Park - Part 6 of 7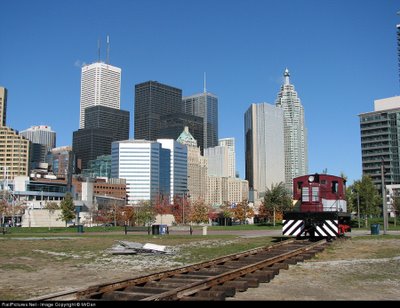 Click on the picture for a closer look!

The above image dramatically illustrates the Roundhouse's proximity to downtown Toronto and was taken on November 2, 2007. TRHC locomotive No. 1, seen on the right, is framed by Toronto's largest skyscrapers, including the light coloured BMO First Canadian Place, the tallest building in the city since it opened in 1975. The bank towers dwarf the Royal York Hotel and Union Station. The dark-coloured buildings located between the hotel and First Canadian Place form the Toronto Dominion Centre complex, the first modern high rise office towers built in Toronto. The tallest of these buildings opened in 1967 and the former observation gallery on the top floor is hosted and interpreted by Heritage Toronto during the annual Doors Open event in May. The landscape of Roundhouse Park itself changed recently with the 19th century Cabin D interlocking tower and Don Station that were moved here in December 2008.
Click here
to read the next in this series of excerpts from Derek's article - The Evolution of Roundhouse Park
.
Story by Derek Boles, TRHA Historian; Image courtesy of Daniel Dell'Unto.
.