The Evolution of Roundhouse Park - Part 7 of 7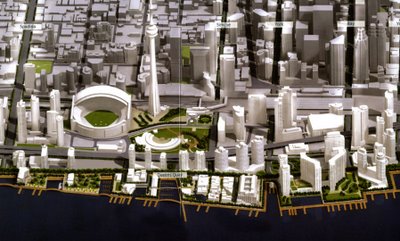 Click on the picture for a closer look!
The image above is a rendering of the Roundhouse Park area showing what it will look like some time around 2010. The striking view from the Roundhouse depicted in the previous image will not be available much longer once the buildings on the north side of Bremner Blvd. are completed. There will also be considerably more traffic in the area with the opening soon of the Simcoe Street underpass beneath the rail corridor. The numerous condos are key to the City of Toronto's revitalization of Union Station, which will be partly financed by building a new retail level underneath the heritage structure.
Planners estimate that about 50,000 people will live within walking distance of Union Station and hope that many of them will shop and dine there. The dramatic changes to this area are highlighted by the fact that a generation ago, there probably weren't 50 people who lived close to Union Station.
Click here
to return to Part 1 of this 7 part series of excerpts from Derek's article - The Evolution of Roundhouse Park.
Story by Derek Boles, TRHA Historian; Image - WATERFRONToronto.