Pierre Berton and the National Dream - Part 1 of 10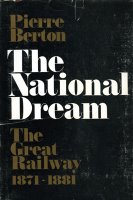 ...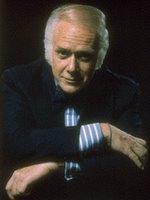 ...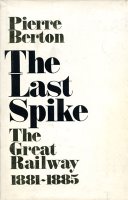 Above are pictures of the covers of the two original books by Pierre Berton who is also caught in this picture from the 1980's.
This is the first in a series of ten posts from an article prepared by Derek Boles, our TRHA historian on the occasion of the 35th Anniversary of the Groundbreaking TV "National Dream" Series - Russ Milland
There is no question that the development of the railway in the 19th century was a key factor in the creation of Canada as a nation and the establishment of Toronto as a successful business and manufacturing centre. Yet, railway history tends to be an esoteric subject, not taught in school nor highly regarded in university academic circles and generally ignored in most museums not specifically devoted to the history of transportation.
The one occasion on which huge numbers of Canadians became aware of the importance of Canada's railway heritage was in the 1970's when Pierre Berton published two best selling books describing the planning and construction of the Canadian Pacific Railway in the 1870's and 80's. Soon after publication, the books were adapted into one of the most highly rated television series ever broadcast on the Canadian Broadcasting Corporation.
Pierre Berton was born in the Yukon in 1920. In 1947 he moved to Toronto, where he was an editor at both Maclean's magazine and the Toronto Star and a regular panelist on the TV show Front Page Challenge. In 1964, Berton and publisher Jack McClelland approached the Canadian Pacific Railway about producing a history of the company to be published in time for the 1967 Centennial. Their dealings were with a CPR official named D.B. Wallace who informed the two that the railway was focused on other projects for Expo and that they weren't interested in the proposed book. McClelland wrote a letter back to the CPR saying that he was "astounded" by their indifference to the project.
Given that Berton's books would later enshrine the CPR in Canadian corporate mythology on a par with the Hudson's Bay Company, this official appears to have had the same instincts as the Columbia Pictures Hollywood executive who told Steven Spielberg that no one was interested in a "fish story" when he tried to pitch the studio on producing the movie Jaws.
By Derek Boles, TRHA Historian
Click here
to read Part 2!
Click here
to jump to Part 10.