Pierre Berton and the National Dream - Part 10 of 10
This is the last in a series of ten posts from an article prepared by Derek Boles, our TRHA historian on the occasion of the 35th Anniversary of the Groundbreaking TV "National Dream" Series - Russ Milland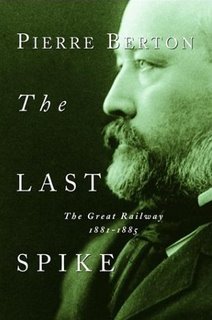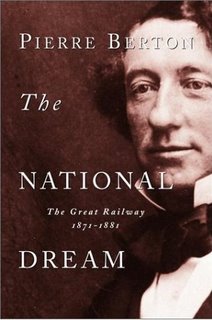 At left are images of the covers of the new editions of the books released in 2001 and still in print.
Random House re-released the National Dream and Last Spike in 2001 and they are still in print. Despite the fact that the television series was an enormous ratings hit and helped fulfill the CBC's mandate of interpreting Canada's history to Canadians, the National Dream has been unavailable for several years and can't be purchased in a DVD format.

Pierre Berton published 50 books in total, most of them historical in nature and requiring a great deal of research. He received numerous honourary degrees and awards, including the Order of Canada in 1986. On one of his last television appearances, Berton raised eyebrows on the Rick Mercer Report by describing his forty years of recreational use of marijuana and gave tips on how to roll a joint, which he demonstrated on air. On November 30, 2004, Pierre Berton died at Sunnybrook Hospital in Toronto at the age of 84.



"It was not so much the subject matter of these volumes that made them significant, as Berton's triumph in claiming the attention of readers across the country. More than the political struggles of Canadian nationalists, this triumph made the idea of a Canadian culture a convincing reality. The books made Canadians believe they shared a historical narrative with depth and drama"



- Philip Marchand, The Toronto Star

"

Pierre Berton understood how compelling our history is, and more importantly, was able to bring it to life and share that fascination with all Canadians."



- John Neale, Chairman and CEO of Random House of Canada
By Derek Boles, TRHA Historian
Click here to return to Part 9.
Click here to return to Part 1.
Click here to see another classic photo of ex-CPR #136