Another Classic Photo of ex-CPR #136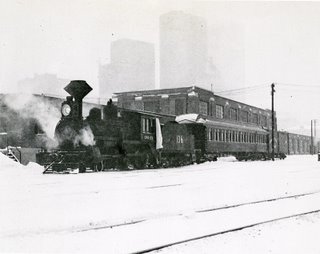 Click on the picture for a closer look!
Recently, we published a series of excerpts here from an article by Derek Boles, TRHA's historian, on Pierre Berton's National Dream books about the development of the CPR. Featured in the TV series associated with the book was CPR steam engine #136. While doing research for an upcoming article on railfan organizations, Derek Boles came across this image of ex-CPR No. 136 at John Street in December 1973. The train was apparently being prepared for shooting the winter troop transport sequences in the National Dream television series. This view is looking northeast and the first of the bank towers can just be made out through the snow. The Stores Building behind the train was demolished around 1996.
The image is credited to John D. Thompson and is from the January-February 1975 issue of the UCRS periodical 'Rail and Transit.'
Rod Wilson has written us providing us with even more information about the above photo:
"The train was heading out to Havelock Ont. then north on CPR's Nephton subdivision where the filming took place. It was so cold during the filming that the diesel locomotive that was provided by CPR as a backup for #136 froze up and had to be towed back to Havelock by #136. If I remember correctly the filming lasted 3-4 days and all of the winter scenes needed for the north shore of Lake Superior in the winter were done at this time for the movie."
Click here
to return to Part 10 of the article on Pierre Berton and the National Dream.
Posting by Derek Boles, TRHA Historian