Pierre Berton and the National Dream - Part 7 of 10
This is the seventh in a series of ten posts from an article prepared by Derek Boles, our TRHA historian on the occasion of the 35th Anniversary of the Groundbreaking TV "National Dream" Series - Russ Milland
At the end of July 1973, No. 136 and its train were returned to Toronto's John Street Roundhouse. In December, the train was called into action once more near Havelock, Ontario to film the winter conditions depicted in the scenes of Canadian troops crossing Lake Superior along the uncompleted stretches of the railway.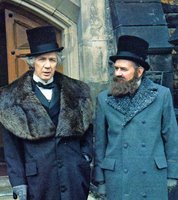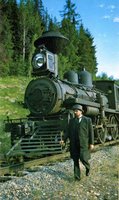 In the picture at the far left we see actors William Hutt (Left) as Prime Minister John A. Macdonald and Joseph Shaw (Right) as CPR President George Stephen. In the picture at the left, we see actor John Colicos as CPR General Manager William Cornelius Van Horne with #136. Click on each picture for a closer look!
Stratford actor William Hutt starred as John A. Macdonald, and dozens of other Canadian character actors filled out the cast. Pierre Berton was by this time a bona fide Canadian media celebrity and the CBC used him as a narrator and on-air host who framed each episode.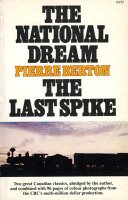 The eight hour-long episodes began on March 3, 1974 and were broadcast each week until April 21. The show was a tremendous ratings hit with three million viewers. McCelland & Stewart exploited the popular show by releasing yet another condensed edition of the books, illustrated with several colour photographs from the CBC production.
In the image at left we see the cover of the condensed version of the books.
By Derek Boles, TRHA Historian

.
Click here to read Part 8.
Click here to return to Part 6.