Pierre Berton and the National Dream - Part 8 of 10
This is the eighth in a series of ten posts from an article prepared by Derek Boles, our TRHA historian on the occasion of the 35th Anniversary of the Groundbreaking TV "National Dream" Series - Russ Milland
.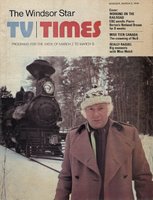 In the image at left we see the National Dream featured on the front cover of the Windsor Star newspaper's TV Times magazine. The National Dream premiered on March 3, 1974.
Click on the picture for a closer look!
The books and the TV series appealed to Canadians' longing for a sense of national identity, especially at a time when our own history was often buried by American popular culture. With their colourful, larger-than-life characters, the gripping drama of political and financial intrigues, and the chronicle of astonishing engineering feats, the books also struck a chord in generations of Canadians whose experience of studying Canadian history in school had led them to believe that it was boring.
The books were responsible for creating a Canadian mythology that considerably benefited the reputation of the Canadian Pacific Railway, already embellished over the years by the company's highly effective public relations department. Unfortunately in Toronto, whatever good will the CPR may have accrued was almost instantly dissipated in 1982 when the company callously demolished West Toronto station while efforts were underway to preserve the structure. The CPR made amends a few years later when they donated the John Street roundhouse to the city for the establishment of a railway museum, a goal finally being realized in 2009.
By Derek Boles, TRHA Historian
Click here
to read Part 9.
Click here
to return to Part 7.