Guelph's CNR Northern #6167 Steam Engine to Move in April!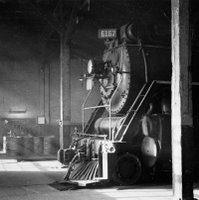 ...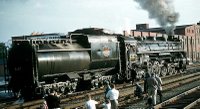 ...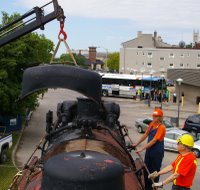 Click on each picture for a closer look!

.
As we have noted in a
previous posting
, only 6 of the 203 Northerns built for the CNR have survived. We further reported that one of the other surviving locomotives, CNR Northern #6167 Class U-2-e 4-8-4, has been on display in Guelph for many years and is under restoration. It is the only remaining U-2-e class locomotive in existence. For much more information and many more pictures about this locomotive and their project,
visit their website
.
.
The Guelph Tribune in an article on May 23rd, 2010 reports that
.
"The city (of Guelph) has awarded a $275,000 contract to a railway contractor to move Canadian National steam locomotive 6167 sometime in late April. It will be moved from the north side of the tracks near the bus station to a piece of vacant land south of the tracks, right next to where GO Transit plans to build a new south-side train platform for GO trains."
.
They further report that:
.
"The job of moving the locomotive has been awarded to PNR Rail-Works, a national firm with a local office on Silvercreek Parkway. PNR, which will coordinate the entire job, has hired a firm called Western Mechanical Electrical Millwright Services Ltd. to do the lifting and moving."
.
PNR Rail-Works were the firm installed all of our standard gauge railway tracks in Roundhouse Park. Western Mechanical restored our tunrtable to operating condition and also cleaned up our F7 Cab and painted it in primer.
.
To read the full article,
click here
.
.
We have repeated here the images we used in our earlier posting as follows. In the picture at the left above we find #6167 at rest in the CNR Spadina Avenue Roundhouse which was a few feet west of our CPR Roundhouse (Picture courtesy of John Vincent). In the middle picture, we find #6167 in fan trip service prior to being retired. In the right hand picture, we see the sand dome being removed in 2008. These pictures are from the
6167 website
. Finally in the picture below (From the CNR Archives at the
National Museum of Science and Technology
) we find #6167 in regular service.
.
Story by Russ Milland